The three winning DLA 2021 posters from three continents!
We are very happy to announce the results of 2021 DLA poster compettion.
From the 43 submitted posters, a jury of 15 reviewers selected two posters, each having earned the highest rating, as the winning posters.
This year's DLA poster entry titled "The third vision: measurable street-scape & a quantitative design guideline" by Yuehui Du of Columbia University, Graduate School of Architecture, Planning and Preservation GSAPP and Xun Liu, University of Virginia, USA was one of the two best entries.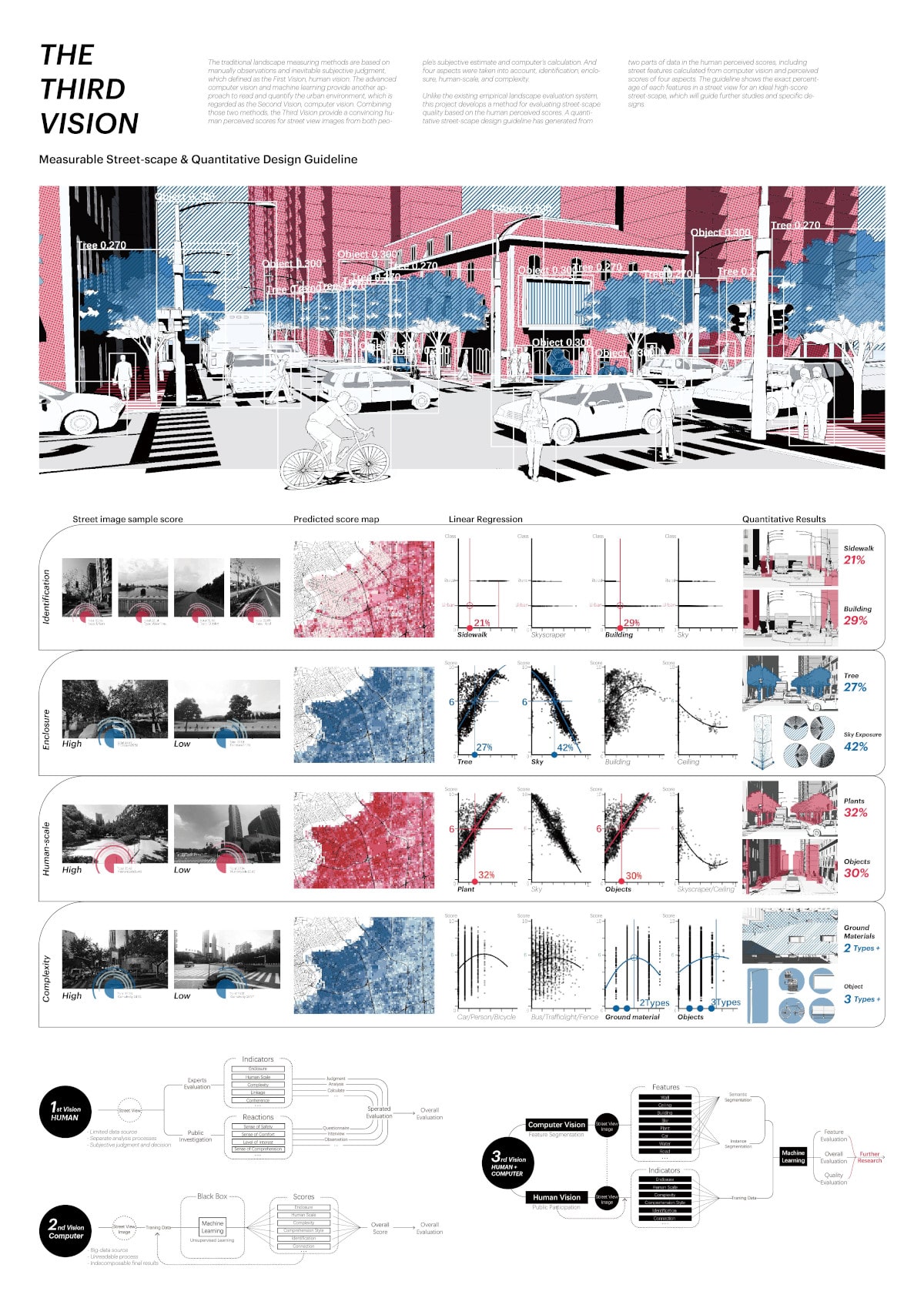 This poster combined automated image recognition with public and expert evaluations to evaluate a number of attributes that were statistically combined estimate streetscape quality. The results are linked to design guidelines. The author shows great promise as a scholarly landscape architect.
Tied for first place was the poster titled:
"A new approach to IoT: evaluating the users' mental health and well-being in urban landscapes; digital analysis of post-Covid experiences" by
Zahra Shirzadian, Roya Naamipouran and Farshad Akar, Shiraz University, Iran,
both received the final average score of 5 after evaluation by eight reviewers.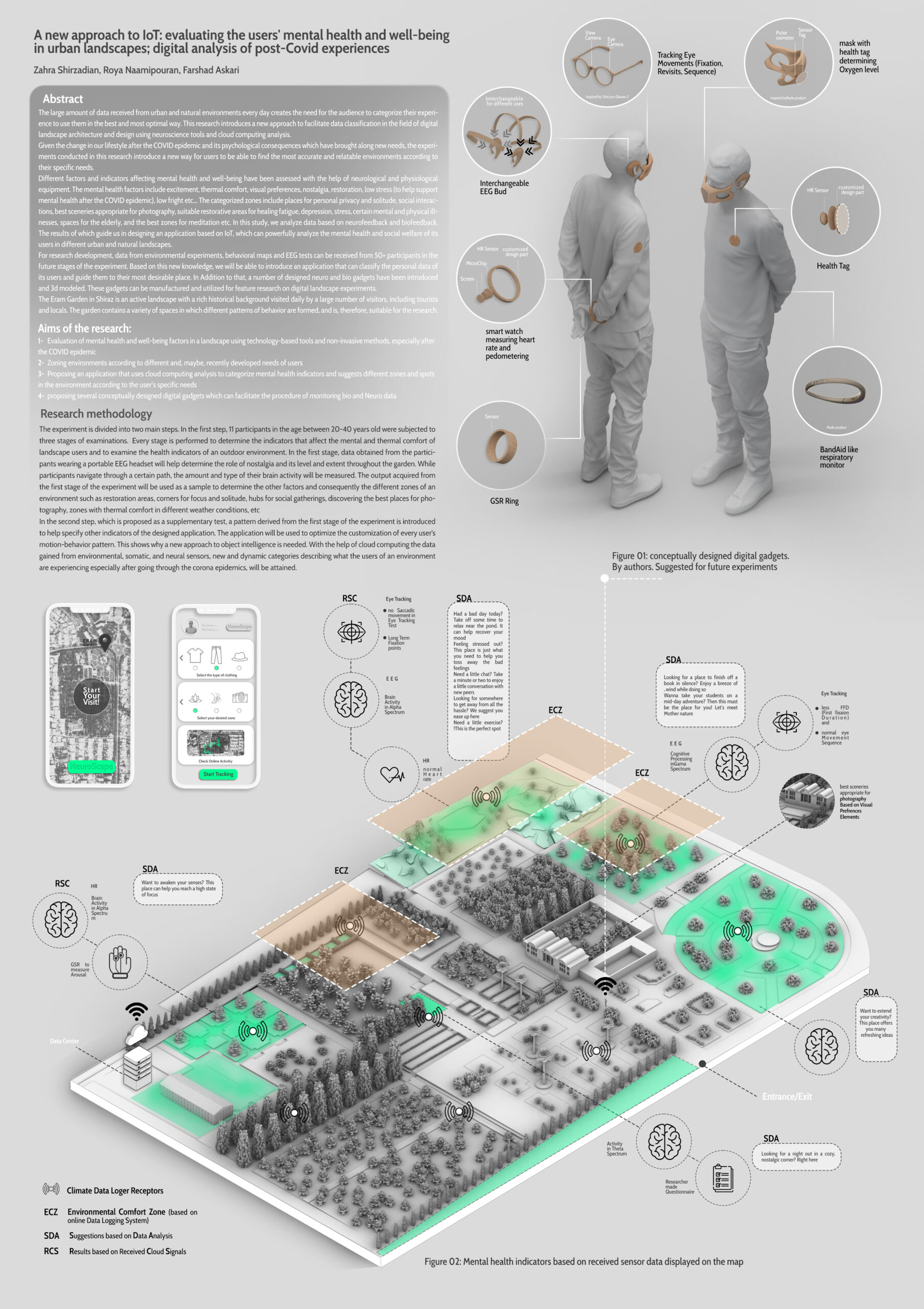 This poster posits new roles and new tools, building on familiar roles and tools, for digital landscape architecture, including  wearable 'intimate sensors' for 'bio and neuro data', along with other IoT 'digital gadgets', leveraging cloud computing and machine learning; applied to timeless human perceptual and health needs, and design approaches; manifested in a specific historic landscape illustrated with multi-scalar views —  all giving new meaning to the ideas of 'cognitive mapping' and designing for measurable user-experience.
Each team will be awarded prize money of 350 Euros.
The poster submission entitled "Detection of Invasive Neophytes using Novel Artificial Intelligence Algorithms" by
Nicolas Tobler, Raphael Unterer, Cengiz Akandil and Guido Schuster from OST – Eastern Switzerland University of Applied Sciences at Rapperswil, Switzerland, with a rating of 4,75 by eight reviewers, receives the third prize and 250 Euros.
Congratulations to the three winning teams from three different continents!
The fifteen reviewers were drawn from the participants of the DLA 2021 conference and gave their expert evaluations on poster entries from 16 different countries.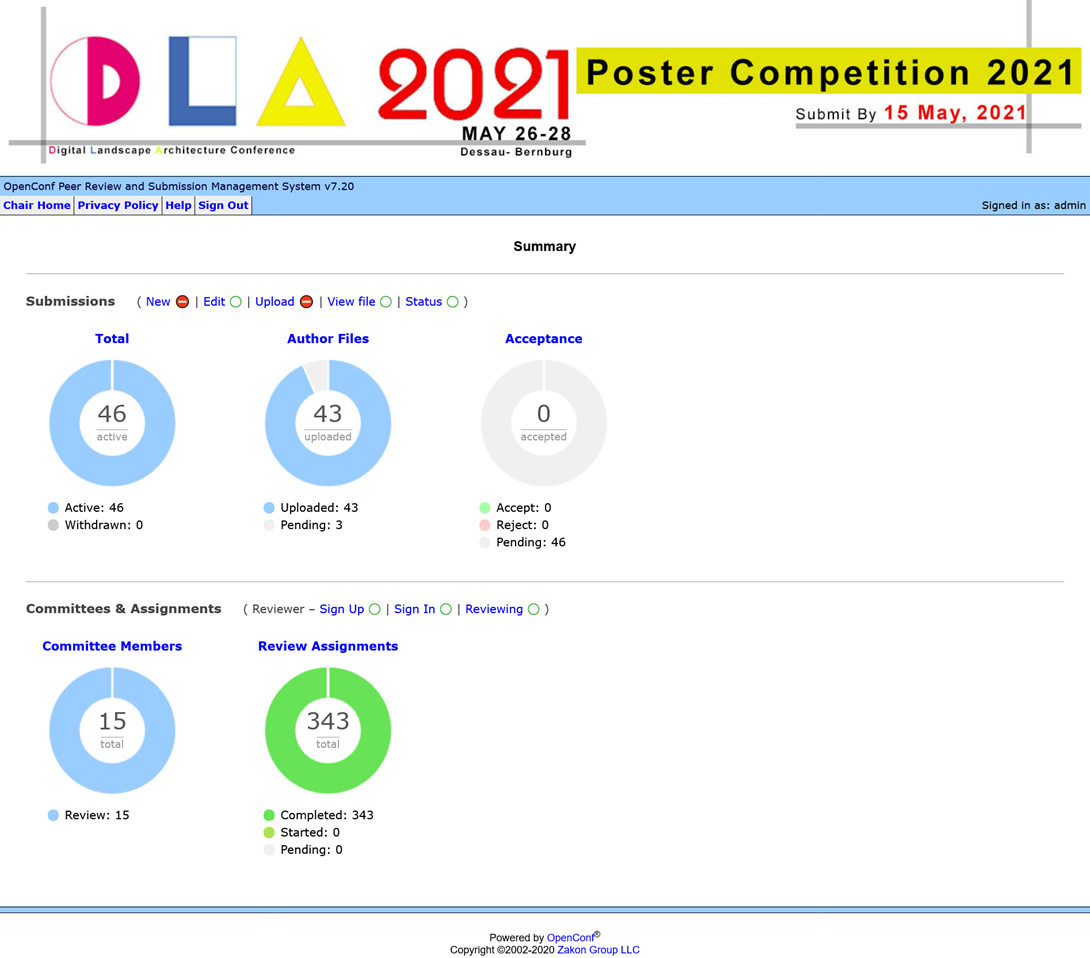 We want to thank the 15 reviewers who each took the time to look through all the poster submissions displayed at http://2021.dla-conference.com/poster-2021/
The non-cash prizes for 4th to-10th place go to
"Residential Development in Southern Sachsen-Anhalt" by Drini Berati, Anhalt University, Germany (score 4.71)
"Measuring Landscape Connectivity in Northwest Chatham County, Georgia; USA" by Jiyue Zhao, University of Georgia, United States (score 4.67)
"Wolfsburg Resilient City as a Climate Garden, City Space History + Digital Landscape Architecture" by Esha Kundu, Anhalt University, Germany (score 4.56)
"Energy Landscape of the Oss Region" by Kitti Biró-Varga, Wageningen University & Research, Netherlands (score 4.50)
"What if We Map the Forest Loss Data of 113 Terrestrial Protected Landscape in the Philippines? Prioritization for Restoration, Conservation, and Preservation through Hansen Global Forest Loss Dataset" by Charl Justine Darapisa, Seoul National University, South Korea (score 4.44)
"Landscape Plan Pavlov – Using GIS to Protect Cultural Landscape" by Kristýna Kohoutková, Mendel University, Czech Republic in Brno (score 4.33)
"CITY YARD" by Bilge Kobak, Gülay Didir, Selin Kaya, Sinem Atak, Irmak Çatalcalı,Seçil Yılmaz Çetin, Design team from Istanbul Technical University and Yıldız Technical University, Turkey and Politecnico di Milano. Italia (score 4.29),
and with the same average score;
"The Socio-Cultural Benefits of Retrofitting Stormwater Channels to Green Channels: Feasibility Study and Design Proposal from Jeddah City, Saudi Arabia" by Abdulmueen Bogis, Virginia Tech, United States
We are very pleased about the wide range of landscape architecture students' contributions from around the world on different approaches of Resilient Landscape Architecture. Thank you to all contributors!
And thank you reviewers:
Andrea Haase, Sara Tanzila Manami, Henry Wagler, Sigrid Hehl-Lange, Eckart Lange, Nicole Uhrig, Catharina Bankert-Hahn, Max Marohn, Verena Vogler, Hans-Georg Schwarz-v. Raumer, Stephen Ervin, Pia Fricker, John Danahy, Tess Canfield and James Palmer.
We also would like to thank VECTORWORKS as this year's main sponsor of the poster competition.
————————
Erich Buhmann, DLA-JODLA, t-online.de
DLA | Digital Landscape Architecture